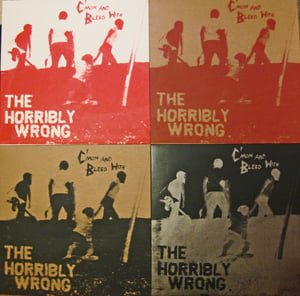 $

8.00 - On Sale
Here it is! Limited hand numbered edition of 340.
Available again on there different jackets.
Black jacket with silver ink, gold ink, red ink and sometimes a little of all three.
Cardboard jacket with red ink and black ink.
White jacket with red ink.
ALL on 180 gram red splattered vinyl.

Shelved and neglected for 5 years, this 18 song blood-drenched monster is finally see the light of day. Hailed as the best new record to come out of Indiana since The Gizmos, Dow Jones, Problematics, The Zero Boys and The Panics. It's got 18 loud as fuck garage punk hits. The Horribly Wrongs first 7" sold out in days as did the following pressings. This LP repress is limited to 340 with silk screened covers. All records are on 180 Gram vinyl too.